A document management dashboard is a centralized location wherein you can store, access, and manage electronic records. With Fill, your dashboard is where you can view and track your eSignature requests and other business-related transactions. It's also the first thing you will see right after logging in to our web application.
Navigating your way through our online dashboard is easy. As you read on, you will learn how to familiarize yourself with this feature and take advantage of it to streamline your workflow.
How a Document Dashboard Can Help Optimize Workflows
Fill's document management dashboard helps streamline various business processes. It makes storing, tracking, and organizing documents more accessible and efficient. Less time spent on manual document processing means fewer mistakes.
With our electronic signature app, you can manage eSignature transactions quickly and securely. You can also store documents digitally and easily retrieve them from anywhere using any internet-connected device like your laptop, tablet, or mobile phone.
The best part? Everything you need is in one place. You will also get notifications and alerts every time a document is signed or updated. Its neat and user-friendly interface also features tools and integrations that make working together easier.
Navigating Your Way Through Fill
Right after signing in, you will immediately have access to your online dashboard, which looks like this: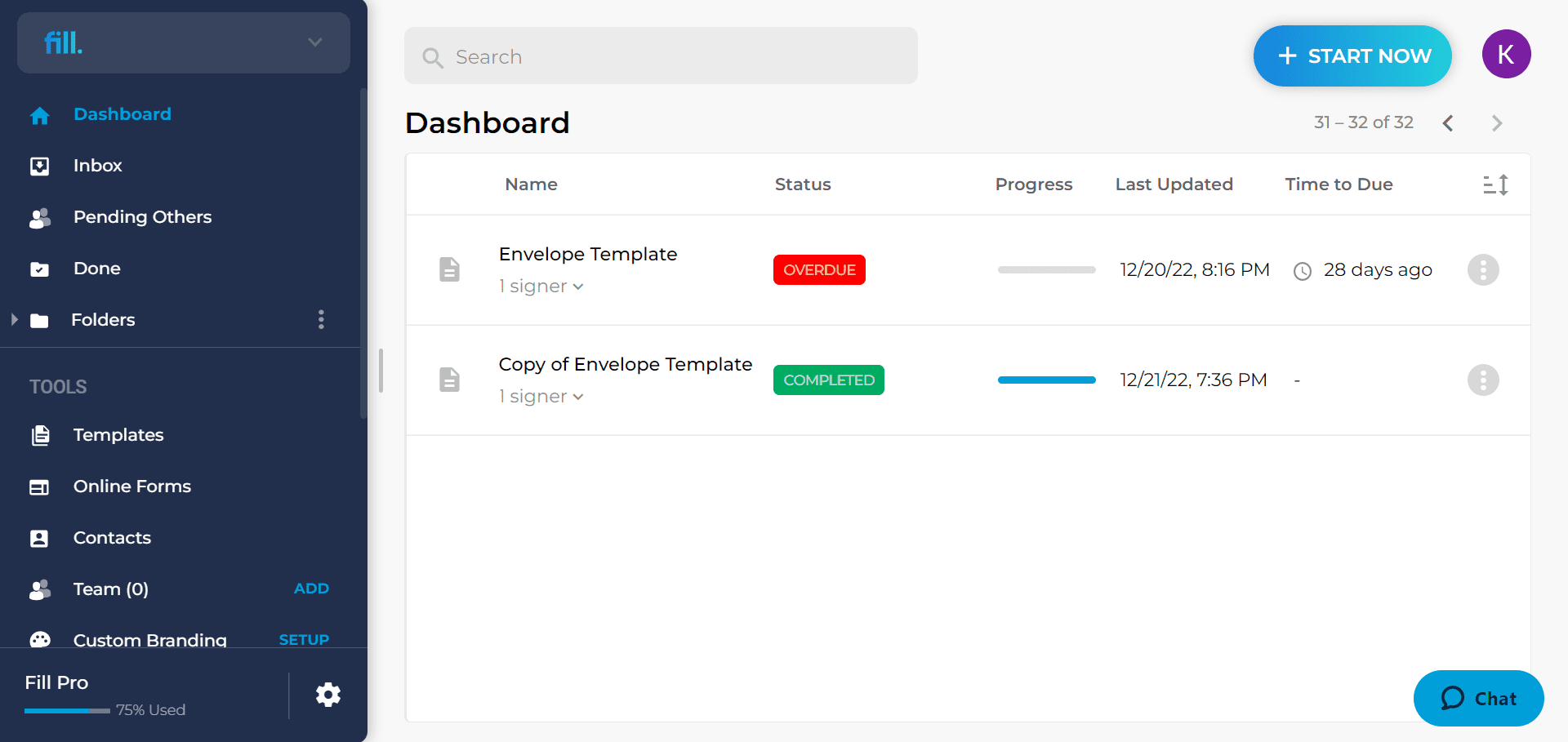 As you can see, the document management dashboard consists of several sections that display all the information related to your electronic document transactions. A quick glance at the progress bar will also show you the status of each signature request. You can see which documents are still waiting for signatures and which have been fully signed and completed.
To search for a specific record, you can either type its name in the search bar or sort them by status or due date. Clicking the hamburger icon ⋮ next to a document will display a menu allowing you to take further action.
The following is a list of actions you can see upon clicking an item in the dashboard:
Edit
Move (to another folder)
Preview
Document logs
Download audit trail
Rename
Delete
Send as fax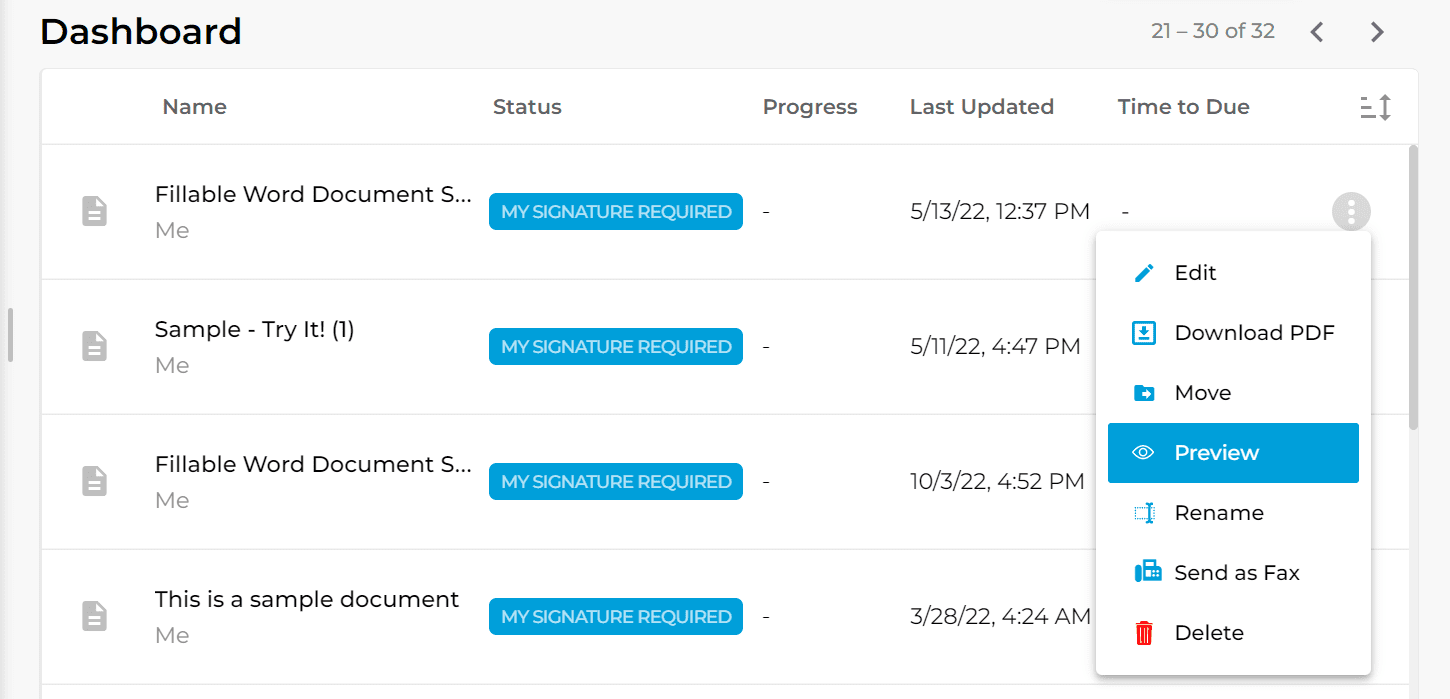 Reordering list items
In Fill, you can freely drag and reorganize items to create a personalized view of your pending and completed documents. This straightforward drag-and-drop feature can help you prioritize tasks and reorder workflows quickly, saving you precious time and resources.
To reorganize your list, here's what you need to do:
Click and hold the drag icon beside the document title.
Move the item into the order of your preference.
Repeat the same steps as needed.
If you want to view specific documents by status, you can click the viewing options available in the left menu. Doing so will allow you to filter out transactions marked as pending or done.
A Convenient and Reliable Way to Improve Productivity
Here are some of the Fill's document management dashboard's features that are worth noting:
Electronic signatures
One of the main options available is the ability to sign documents and send them for electronic signatures. This option allows multiple signatories to legally sign forms and agreements remotely at the convenience of their own offices or homes.

Document previews
On top of electronic signature signing, your document dashboard is also home to several other options, including previewing documents before sending them to different signatories. You can also preview the agreements and forms you have received without downloading them.


Audit trails
Clicking the "Logs" option will display a chronological list of activities associated with the document, such as when it was created, signed, and sent. You will also see detailed information about each activity, including the signatory's location, platform, and IP address.
Team collaboration
The "Share" option in the document management dashboard allows you to share forms and agreements securely via email or by generating a unique link. This way, you can easily collaborate with others and efficiently share documents with clients who need to review, sign and approve them.

Smart folders
With Fill, you can efficiently organize transactions and track the progress of your eSignature requests using folders. Through this, you can stay on top of your tasks and ensure that all your documents get signed promptly. You can also create subfolders for specific requests like application forms, contracts, or invoices.

Manage Documents and Collect eSignatures With Ease
Your document and eSignature dashboard is a powerful feature that can help streamline tasks and optimize workflows. It allows you to sort and monitor each document's progress quickly, freeing you from the tedious process of doing physical paperwork.
With Fill, you don't have to waste time and resources printing documents. By taking full advantage of its dashboard options, you can effortlessly complete transactions and get agreements signed at a click of a button.
Sign up for a free account to instantly access your Fill dashboard today.