Use JPEG signature generator for your documents with Fill to ease up your process of signing and verifying documents. JPEG signatures make the process of signing significantly easier and allow you to close a lot more deals in a day compared to the traditional approach.
Fill has been providing eSignature services to millions of satisfied customers across the world and now it's your turn to take advantage of all its amazing features.
JPEG Signature Generators
JPEG signatures are a type of electronic signature that provides you with an online alternative to signing documents. JPEG signatures are created using a clicked picture of your handwritten signature which is then turned into a digitally applicable format that you can attach to documents for signing and verifying them.
Why choose JPEG signature generators?
JPEG signatures have been adopted by a lot of people as their go-to signing option for a number of reasons. The foremost reason is it is an efficient online alternative to signing documents that is both fast and convenient. Businesses that have adopted online means of signing documents for themselves and their associates have shown a great improvement in overall productivity and workplace satisfaction. Moreover, there are a lot of secondary benefits of signing documents with a JPEG signature generator like Fill as it comes with a plethora of features that further adds to the upsides of using electronic signatures.
JPEG signature generators are suitable for legal documents
Using JPEG signature generators or other forms of electronic signing in documents is a legally valid approach to verifying documents. International laws have been passed authorizing the use of online signatures on legal documents which are suitable to be admissible in a court of law.
There are certain regulations that must be followed to effectively use eSignatures for legal documents. eSignature services like Fill makes it a point to take all the requisite measures that allow you to follow those regulations and sign in compliance with the law in a convenient manner.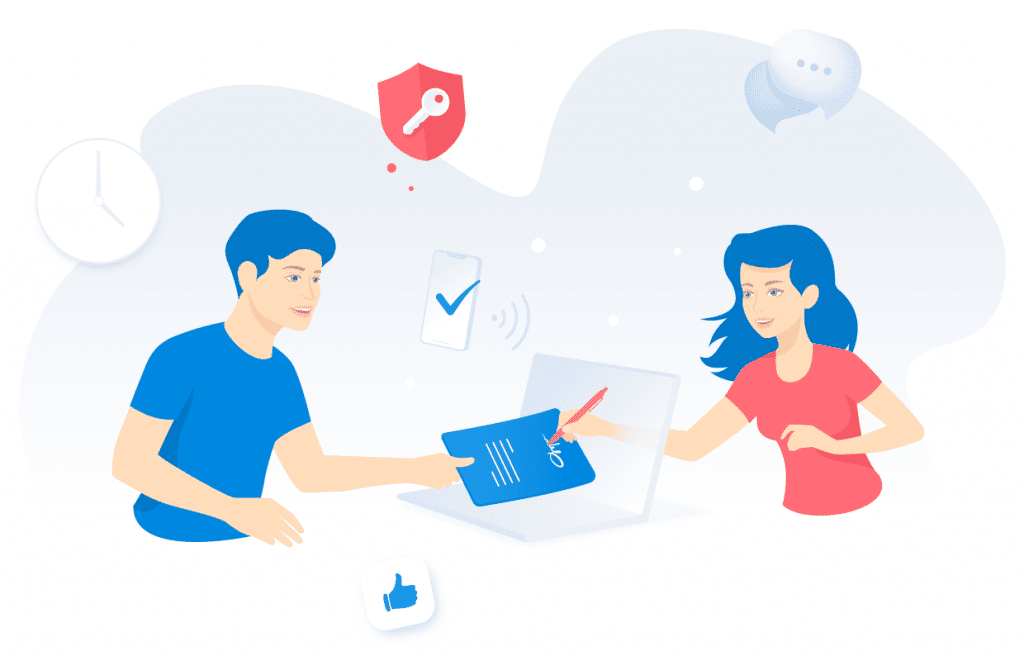 Where do you sign up for using jpeg signature generators?
Using JPEG signature generators for your personal documents or office requires the minimum amount of investment and the good news is that you can start right away.
Since JPEG signatures are a form of online signature, you will need to sign up with a reliable vendor like Fill to get the requisite interface that allows you to use electronic signature effortlessly while being compliant with the regulations. You will need a device with access to the internet to log in to your Fill account and you are good to go.
How to create your JPEG signature?
Creating a JPEG signature is fairly easy. After you have logged in to your fill account, you will be able to create your JPEG signature that you can use on all future signings by following the simple steps below.
Step 1: Click on the upload document button which is present right at the centre of your account's home page and upload the document which you wish to sign.
Step 2: You will be directed into a PDF editor where you can make the required changes.
Step 3: After you have made the changes, you can add fields in the document for yourself and other signers.
Step 4: Click the Add Signature button where you will be asked to upload the clicked photo of your handwritten signature.
Step 5: After the photo is uploaded, Fill will generate an applicable image of the photo you uploaded which you can simply apply on the fields you created.
Suited for any scale
Fill JPEG signature generator is not specific to only a few types of businesses or individuals but is rather much more inclusive. We have kept the diverse nature of both individual and organizational needs and built a system that is flexible to adapt to any setting. Fill has been helping individuals, small businesses and many MNCs to make eSignatures a part of their work process in an equally efficient manner.
Easy integration
Fill is built to be flexible to its core and is highly compatible with any kind of database system that you may have set up at your workplace. Fill works well with many internationally renowned apps as well which makes it a great option to be integrated into almost any kind of database that facilitates both online and offline access to important files.
Easy interface
Introducing a new system to handle documents in your office or organization does not need to include a briefing to help your employees get familiar with it. Fill comes with an easy interface that can be used by anyone with a basic knowledge of using computers and smartphones. Every step of the process is highly guided with Fill and one can easily navigate their way to accessing and signing documents in under a few minutes.
Fill's customers have seen improvements in these areas of their businesses and organizations
Faster workflow
Using JPEG signature generators helps you to access and sign important documents at a much faster rate helping you to handle your work for the day in a fraction of the time that it used to take.
Reduced costs
Using digital means to create, sign and send documents greatly reduces the need for accumulating and processing paperwork. Fill can help your office go paperless which will cut down a lot of costs that are incurred in their processing and maintenance.
Greater productivity among employees
With the convenience of eSignatures, employees will have an easier time reviewing, signing and sending over documents to the concerned parties. This will reduce a lot of the work cut out for them and they can squeeze in a lot more tasks within the same working hours as before.
Customer satisfaction
Providing the convenience of signing documents online for your customers makes it easier for them to verify deals and agreements from the convenience of their homes. This will make them have a greater time dealing with you and your business in a comfortable way leading to greater satisfaction.
Fill's JPEG signatures has been adopted by a large number of companies worldwide. Make sure to stay ahead in the game and make use of the best that technology has to offer.