What is an email signature maker?
An email signature maker allows you to sign documents or emails that are of high importance through digital means. It is a relatively new and easier way to verify documents and important statements without using the traditional means of a handwritten signature and commuting from one place to another with important documents.
Why use an Email signature maker?
Using digital means to sign important documents and agreements brings with it a lot of benefits that can boost productivity and give businesses a competitive edge in the market. Email signature generators are highly relevant these days as the competition between businesses is intensifying and everyone is coming up with newer and more effective ways to handle office work and boost productivity. Email signature makers can help users create a signature for themselves and sign important documents and attach their signatures to emails to fasten up the process of document verification.
Where to create a free email electronic signature?
To create an online signature for yourself, you will need to subscribe to the services of a free electronic signature service provider like Fill. Fill provides features that will facilitate your use of eSignatures on documents, agreements and emails that you can send over to a recipient through digital means. Fill comes with an easy interface that is made with the user's convenience in mind.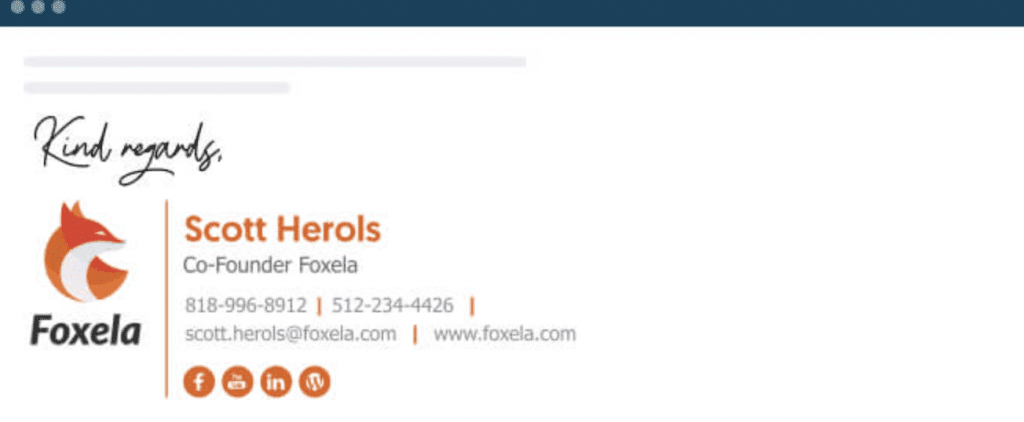 How to Use Fill's email signature maker?
1. The first step is to subscribe to fill's services which you can do by paying a fairly reasonable subscription price.
2. You can choose from a range of fonts that fill offers as options to create your online signature or you can also proceed to sign and draw your signature using the touchpad or a mouse depending on what kind of device you are logged in with.
3. The next step is to upload the document that you want to sign to fill's cloud. The cloud provided by fill also acts as a digitally encrypted safe storage for soft copies of all your agreements and contracts.
4. The signature you created on step 2 will be of use here. You simply need to choose the add signature option and then proceed to drag your signature to the preferred location in the document.
After following the above steps, you will have successfully placed your signature on a document using Fill's eSignature services.
Signing options that you have with email signature maker
The type of documents that you can sign with Fill are numerous. Fill will help you with signing documents that are part of different processes of an organization. Some of the types of documents that Fill helps you sign are:
Healthcare documents
Offer letters
Insurance Documents
Rental Agreements
Liability Waiver
Permission Slips
Financial documents
Sales Contracts
Advantages of using fill's email signature maker
Fill's email signature maker comes with a lot of advantages making it a useful tool that you and your business would prefer to have aboard.
Fully Digitized Experience
It allows you to make all your paperwork process digital which can add to a lot of convenience for you. Having the power to digitally handle files and get them approved without having to move around the office may take off a lot of burden from the workers.
Unbreachable Security
Fill eSignature provides top-notch security for documents and agreements stored in its cloud with digital encryption. A security breach is highly unlikely with Fill and only authorized personnel can have access to documents that are of high importance. Files cannot be misplaced when stored in Fill's cloud which is a common occurrence in offices with a lot of paperwork.
Convenience to handle office affairs from anywhere
Fill eSignatures is adaptable to a lot of businesses and any kind of document that is to be signed by you can be handled using Fill. The flexibility that you can take advantage of is not limited to signing documents but also the type of device you will be using to do so. You can access fill's services from your smartphone, tablet, laptop and desktop according to the convenience of the moment.
Legally enforceable
eSignatures are a legally valid way of signing documents and agreements making them admissible in a court of law. Fill ensures every protocol has been followed when documents are signed using their services and provides customers with a legally accepted way of signing documents.
Other advantages
There are other additional advantages of using Fill email signature maker that helps to make your office experience a bit smoother.
Cost-cutting
Curbing costs is one of the best upsides of using Fill eSignature services. A digital process of signing and handling documents will greatly reduce the amount of paperwork required in the office and the cost that is incurred in handling, storing and getting them from one place to another.
Environment friendly
Using a digital process helps you cut out a lot of papers from your work process. Using less paper will be of great benefit to the office as well as our environment as we are facing a great decline in the number of resources that are available to us. Cutting down the use of paper may prove to be a useful step towards environmental preservation.
Paperless and hassle-free office environment
Dealing with papers can be a little trouble every now and then and papers are known to be susceptible to damage and often need intense organization. Having fewer papers around will help you to be more efficient in your office setting and will create a positive work environment for you to work in.
eSignature has a lot to offer to businesses as well as individuals. they make it easy to carry out documentation in a safe and legit manner. Try out Fill signature maker today to see what you have been missing out on all this time.