As more and more businesses join the digital revolution, traditional processes dwindle in popularity. Besides, paper-based methods could be inefficient, environmentally unfriendly, and ultimately more expensive to maintain. Digitizing paper documents is the more efficient, ecological, and cost-effective way to run a business.
This is where electronic signatures come in. For retail lenders and corporate banks, an electronic signature for loan documents will streamline contract management processes. If you need a guide to eSignature loan documents along with other crucial processes, this article is for you.
What Are Loan Documents?
Loan documents are any type of documents necessary to secure a loan transaction. Moreover, loan documents are needed for businesses and individuals applying for a loan.
For business loans, these documents range from bank statements, tax returns, and business permits and licenses. Aside from that, employment identification numbers, loan histories, and business financial documents may also be required for eligibility evaluation.
For personal loans, applicants must also submit loan documents as application prerequisites. This includes an application form, proof of identity, pay stubs, a W2 form, and proof of income source. Banks will then authenticate these documents and request your signature to confirm their validity.
Benefits of Using Electronic Signatures for Loan Documents
Whether for your business or personal needs, an electronic signature for loans is the better choice for many reasons. These are the following:
Improved Security
As loans entail financial services, loan documents need to be secured to the extent that it eliminates potential security breaches. Having said that, security is a high priority when it comes to the legal validity of loan documents. Electronically signing loan forms is a highly secure way to make transactions.
In point of fact, it is even more secure than wet signatures as the latter can be tampered with. Meanwhile, electronic signatures have security measures to prevent forgery and verify the signer and when it was made. It has a military-grade encryption feature that will make it impossible for forgers to commit identity theft or signature impersonation.
Convenience
Manually signed documents can be more demanding and time-consuming. This holds true if you are to sign tons of documents within a day. With electronic signatures, you don't even have to be in the office to sign documents.
Now, compare it to the hassle of manual and traditional processes. You have to be physically present in the office to have your paper documents signed and have them mailed. Electronic signatures for loan documents simplify the transaction without compromising its enforceability.
Workflow Tracking
Back in the day, there was little way, if at all, where you can track your documents' progress. This means having to wait until you receive a confirmation of whether the document is secured by the other party. If it's lost in the mail, it inconveniences both parties and wastes time, money, and effort.
With eSignature loans, you can monitor document progress using an audit trail system that will let you see real-time updates. You can see whether the document you sent has been received, opened, or already signed. This feature is beneficial in streamlining your workflow and improving your contract management duties.
Cost Savings
Businesses and individuals would often choose what would enable them to save more money. This is the same case with loan documents for lenders and borrowers. With manual signing, you will need plenty of paper, ink, stationery supplies, and expensive equipment such as printers and scanners. Not to mention the courier service costs.
With an electronic signature for loans, availing of a premium plan like the one offered by Fill is cost-effective. Fill is also scalable, as you can choose the more modest plans depending on your business needs. As your business grows, you can always upgrade and use Fill to streamline the processing of your loan documents.
Eco-friendliness
Opting for paperless transactions means you are also giving your fair share to environmental preservation. More and more businesses feel the urgent necessity of shifting online, and your business should, too. Aside from saying goodbye to paper documents, it will also free your office desk of unnecessary clutter.
Moreover, shifting online will also render the need for physical cabinets for document storage inessential. With documents for loans, electronic signature use is the most secure way to store essential documents in cloud-based storage.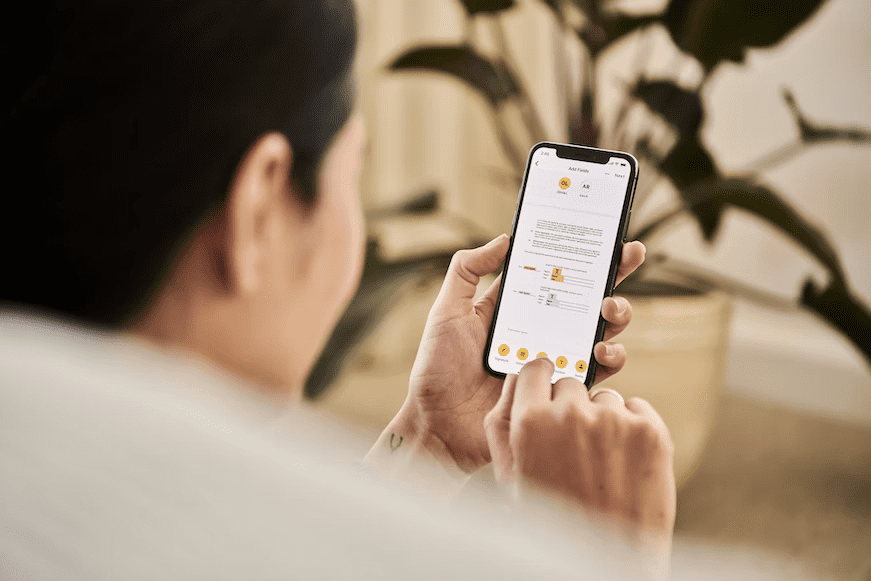 How to eSign Loan Documents
Traditional processes of signing documents are easy but can be labor-intensive. With digital signatures, it is just as quick and effortless and requires only the bare minimum of technological savviness. In fact, even those who consider themselves not even remotely techy can manage to use an eSignature tool like Fill.
The right eSignature software comprises a user-friendly interface that will make it easy even for the non-tech savvy to utilize. After coming up with your own eSignature, it would be a lot simpler to use them online to sign loan documents. Fill, with its foolproof and user-friendly interface, can help you eSignature loan documents in a few minutes.
How Fill Can Make It Easy to eSign Loan Documents
Loan documents could be a hassle to manage. But with eSignature solutions like Fill, you can bid farewell to tediously long and inefficient workflow management. Conversely, you can now say hello to loan document processes that are easier, more convenient, and much more secure.
Aside from creating your own eSignature and using it to sign documents online, Fill also has other tremendously vital features. These are as follows:
Contract management
When managing high-level contracts, Fill is a dependable digital solution. Our software will assist you with contract templates to use alongside other vital features. This includes real-time audit trails and logs, instant alerts, and Zapier to integrate Fill with your other document software tools.
Signer Identity verification
You can integrate identity-proofing into your documents and contracts using Fill's Signer Identity Verification tool. It enables you to prohibit unauthorized entry and grant access solely to authorized individuals.
With those authorized, you can ensure that there's a way to verify whether they are who they say they are. This can be done by running a quick but effective signature verification to detect any forgery attempt if any.
Signature Request
If you're the business manager, you can request a client's signature effortlessly with Fill. After uploading the document that needs a digital signature, you can then select the signer(s). Note that you can select multiple recipients to request for eSignatures. This is also regardless of where they are at the time.
After this, you can set a specific time as to when you will send the document for digital signing. You could then track the progress of your document through Fill's instant alert and notification feature.
Online Forms
To collect personal information and conduct surveys among your clients, Fill provides online forms. With this, you can convert PDF files into HIPAA-compliant eForms. You could also add fillable fields from where you want your customers to sign. Finally, you can publish the eForm and share the link with your target respondents.
HIPAA Compliance
Compliance is indispensable when dealing with contracts and loan documents. Should you decide to join the digital revolution and use eSignatures, Fill is compliant with HIPAA and GLBA regulations.
This ensures that your loan documents comply with industry standards governing electronic signature use. In essence, eSignatures bear the same legal weight as their manual counterparts, but only more secure, more convenient, and tamper-proof.
Sign Your Loan Documents Efficiently With Fill
It's a fast-paced time, and it's only wise for businesses to keep up with an ever-evolving digital society. Using electronic signatures for loan documents will simplify the loan application process without sacrificing their legal validity. eSignatures are secure, HIPAA-compliant, and eco-friendly for businesses of all sizes.
Be up for the challenge and make signing loan documents an effortless online activity. Start using Fill to achieve your business goals today.